Welcome to our clinic!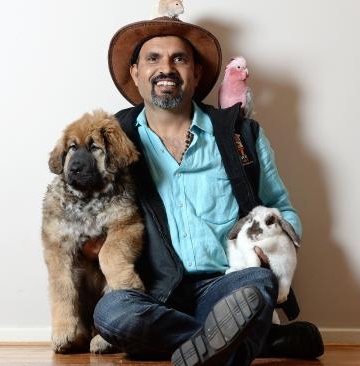 Dr Ram Naresh
BVSc&AH, MVSc Medicine, PhD(Murdoch), BVMS(Murdoch)
Registered Member with Veterinary Surgeon's Board, Western Australia
Director, Australian Veterinary Services Pty Ltd
Principal Veterinarian, VET AT HOME, Mobile Veterinary Services,
PO BOX 5292, Canning Vale South, WA. 6155. AUSTRALIA
Mobile: 0416 724 140, Email: This email address is being protected from spambots. You need JavaScript enabled to view it.
Karma guarantees a happy, healthy and peaceful world
I am Dr Ram Naresh, a proud Australian citizen and owner of "VET AT HOME" Mobile Veterinary Services around Perth. I completed PhD on cellular and molecular basis of bacterial pathogenesis with Prof David Hampson; and BVMS from Murdoch University Veterinary School. I am veterinarian from 1992. Previously, I have worked as a veterinarian, university demonstrator, university lecturer, researcher and postgraduate teacher. I have published dozens of research papers in peer reviewed international journals. I have presented my research accomplishments in several international scientific meetings in Australia, Europe and India. I was born on a farm with animals. I had a beautiful childhood with dogs, birds, lambs, calves and farm animals. Animals live in my heart. I keep animals above my business. I own 16 cutest pets that includes 2 super gorgeous Tibetan Mastiff puppies (Durga and Heera), 1 most kissable Galah (Buddy), 1 most beautiful Eclectus Parrot (Scarlett), 2 fantail pigeon, 1 most friendly rabbit, 5 cutest Guinea pigs, 2 singing Canaries and one quail. I am also father of one gorgeous and kindest daughter Aduesha/Addy/Khushy who means everything to me. I started VET AT HOME from June, 2012 to help pets and pet owners around Perth. I still remember taking my family animals to vet hospital were one of the most stressful tasks to our family in India. Other than radiography and major procedures most of the things can be done at home with no difficulties. I have treated several complicated cases of skin problems, chronic diarrhoea, osteoarthritis and diabetes. Now we are a family of around 12000 people on our Facebook page. Thanks for more than 160 reviews on Facebook and 15 reviews on Google. I have visited 1000s of families in Perth in last 3 years. I have earned unconditional love, uttermost honesty and kindest attitude from Perth People. Your love and support to Dr Ram's work has been the most motivating factors. Word of mouth has been the most effective way for Dr Ram to get popular among Perth families. I am highly grateful to "The Sunday Times" and 6 PR Radio for sharing my professional feelings on Companion animal Euthanasia with Australian community. I am always thankful to you all for your ever growing love and support. I PROMISE you all to be honest, humble, respectful, caring and cost effective veterinarian in coming days. I PRACTICE KARMA…………If I have done anything wrong please let me know. LOVE YOU ALL....