Euthanasia and cremations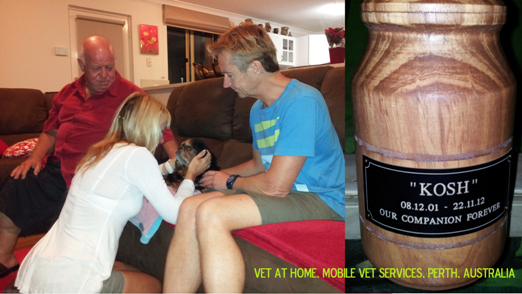 Euthanasia of a Pet at home
Euthanasia Services
Euthanasia is a painless procedure, and allows us to say a final goodbye when our pet is suffering with incurable painful conditions or is perhaps too old to cope with life. Your home is the best place for your pet to be euthanized. It gives an opportunity for your whole family to interact with your pet in a more intimate way. Home euthanasia is less stressful for the whole family and the pet. Dr Ram follows a respectful protocol which includes sedation and careful handling of your pet in familiar and comfortable surroundings. We can also arrange for a professional cremation according to your wishes. Our clients said that Dr Ram has the capacity to alleviate the emotional pain with empathetic communications.
Cremation Services
VET AT HOME also provide a range cremation services which means after euthanasia we will take your pet with us for a professional cremation.
1. Bulk Cremation:- You won't get ashes back
2. Individual Cremations:- This is more respective way for your friend's welfare. Your friend will be cremated alone and ashes will come back to you. You can chose different type of containers, plaques, engravings and urn to store the ashes.