About Dr Ram Naresh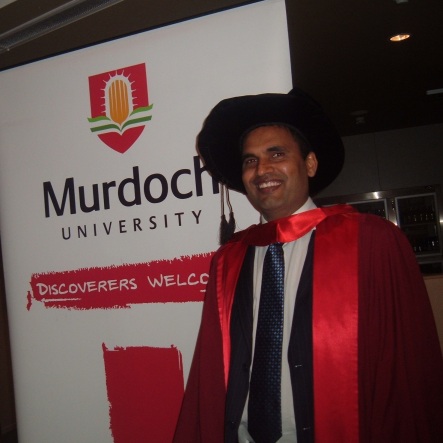 Dr Ram Naresh awarded PhD and BVMS from Murdoch University Veterinary School
Ram is an Australian citizen and veterinary surgeon registered with the Australian Veterinary Board Council, WA, and a member of the Australian Veterinary Association. Ram has worked from 1992 as a vet, university demonstrator, university lecturer for final year vet students, researcher (agricultural research services) and postgraduate teacher in India and also in Australia. This page provides very brief information about Ram's education, experiences and achievements.
University Qualification in Veterinary Medicine
BVMS, Murdoch University, Perth, WA, AUSTRALIA, Year 2012
PhD Veterinary Science, Murdoch University, Perth, WA, AUSTRALIA, Year 2010
MVSc Medicine, Indian Veterinary Research Institute, Izatnagar, India, Year 1997
BVSc&AH, College of Veterinary Sciences, Nainital, India, Year 1992
Awards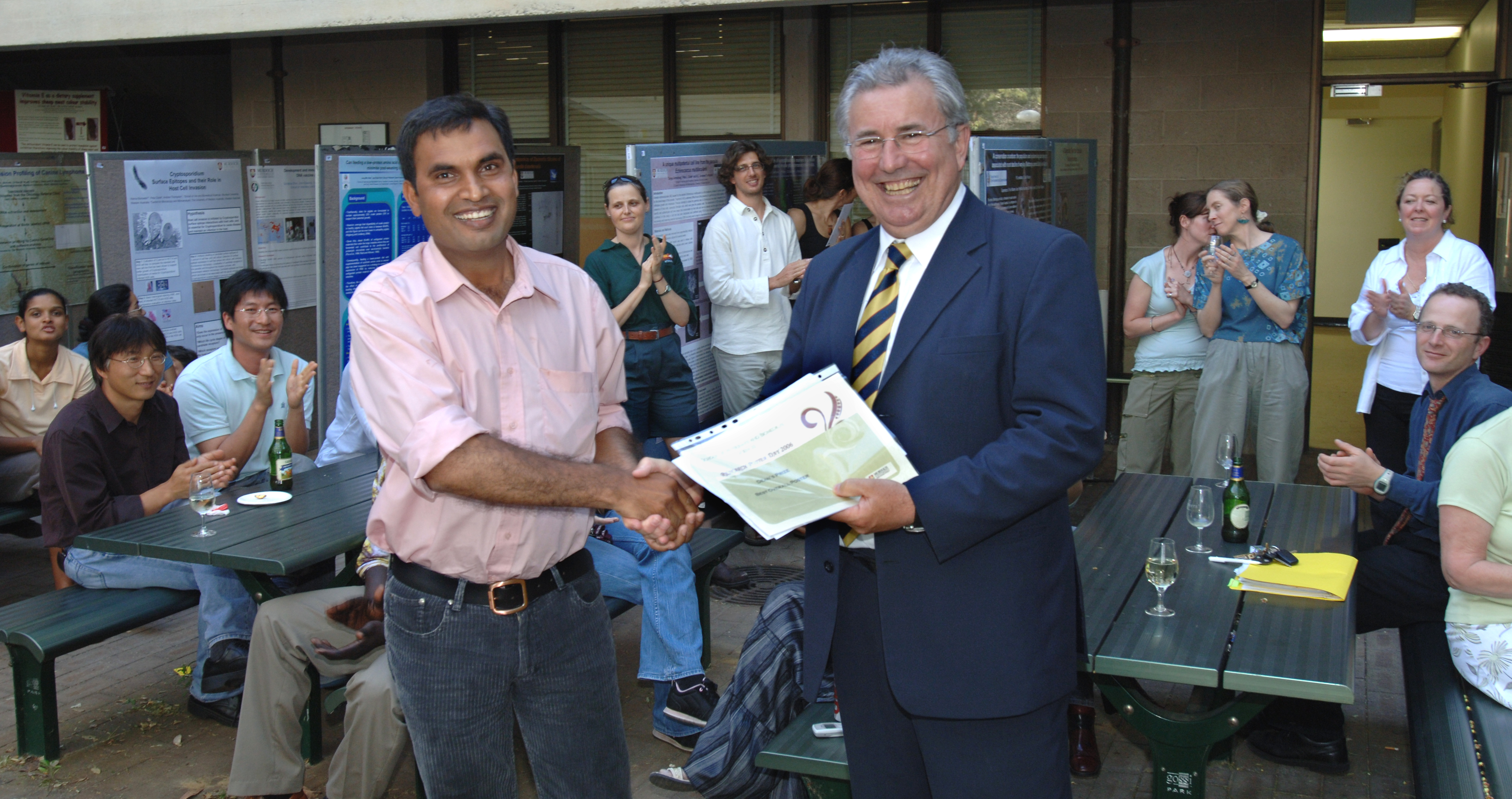 Dean's Prize at School of Veterinary Science, Murdoch University 2006
Endeavour International Postgraduate Research Scholarship, Murdoch University, 2005-2009
Murdoch University Research Studentship – Murdoch University, 2005-2009
Dean's Prize, Best Overall Research Award, School of Veterinary and Biomedical Sciences, Murdoch University, 2006
Best Research Award, School of Veterinary and Biomedical Sciences, Murdoch University, 2009
Junior Research Fellowship,Indian Council of Agricultural Research, New Delhi, 1992-1994.
Award of Honour,Indian Society of Veterinary Medicine, India, 2005.
Work Experiences
University Demonstrator, School of Veterinary Sciences, Murdoch University - 2007-2009 
Scientist cum Postgraduate Teacher of Veterinary Medicine (Agricultural Research Services), Indian Veterinary Research Institute, Izatnagar, India - 2000-2005 
Assistant Professor, Rajiv Gandhi College of Veterinary and Animal Sciences, Pondicherry, India - 1997-2000
Veterinary Officer, State Government of Uttar Pradesh, India - 1996-1997
Veterinary Assistant Surgeon, State Government of Rajasthan, India- 1994-1995
Publications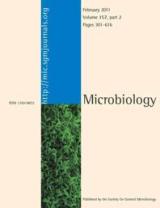 Cover page of Microbiology Journal (Society of General Microbiology, UK) with Ram's research picture (bacteria attached to intestinal cells seen under Scanning Electron microscope), chosen by Editorial Board of Microbiology.
Ram shares the authorship of more than 50 publications which includes 23 research articles in peer reviewed international journals and numerous presentations at international scientific meetings in Australia, India and Europe.
List of some publications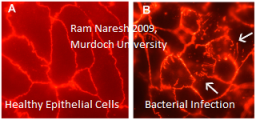 Scanning Electron microscopy. Normal intestinal epithelia cells (A), Bacteria infecting the intestinal cell boundaries and junction (B)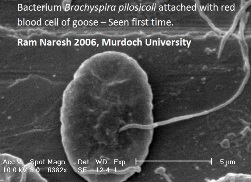 Bacteria infecting whole of the cell layer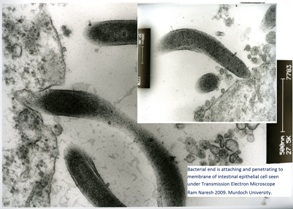 Bacterial ends penetrating the cell membrane of intestinal epithelial cells
Ram Naresh and David Hampson, 2014. Strains of the intestinal spirochaete Brachyspira pilosicoli attach to and aggregate erythrocytes. Letters in Applied Mirobiology 58:65-69 
Ram Naresh and David Hampson, 2011. Exposure to norepinephrine enhances Brachyspira pilosicoli growth, attraction to mucin and attachment to Caco-2 cells. Microbiology 157: 543-547
Ram Naresh and David Hampson, 2010. Attraction of Brachyspira pilosicoli to mucin. Microbiology 156: 191-197
Ram Naresh , Yong Song, David J. Hampson, 2009. The intestinal spirochete Brachyspira pilosicoli attaches to cultured Caco-2 cells and induces pathological changes. PLOS ONE 4(12): e8352. doi:10.1371/journal.pone.0008352
R. Naresh , D. Swarup, M.C. Sharma and RakeshRanjan, 2005. Clinical management of sarcoptic mange in Indian buffalo calves with a botanical ointment. The Veterinary Record 156: 684-685
Ram Naresh , J.P. Varshaney, D. Swarup and N.N. Pandey, 2002. Refractory canine podo-dermatitis due to mixed infection of Demodexcanis and Malasseziapachydermatis in a dog – case report. Indian Journal of Veterinary Medicine 22: 61-62
D. Swarup, R. Naresh , V. Varshney, M. Balagangatharathilagar, P. Kumar, D. Nandi, R. Patra, 2007. Changes in plasma hormones profile and liver function in cows naturally exposed to lead and cadmium around different industrial areas. Research in Veterinary Science 82: 16-21
Some Scientific Meetings
Ram Naresh, Yong Song and David Hampson. 2009. Interactions between Brachyspira pilosicoli and Caco2 cells. Annual Meeting of Australian Society of Microbiology, July 6-10, 2009, Perth, Australia.
Ram Naresh and David Hampson. 2009. Chemotaxis to mucin by Brachyspira pilosicoli. Annual Meeting of Australian Society of Microbiology, July 6-10, 2009 Perth, Australia.
Ram Naresh and Hampson. 2009. Brachyspira pilosicolichemotaxis to mucin. 5th International Conference on Colonic Spirochetal Infections in Animals and Humans, 8th-10th June, Leon, Spain.
Ram Naresh and David Hampson 2008. Development of an in vitro attachment assay for the intestinal spirochaete Brachyspirapilosicoli. XII International Congress of Bacteriology and applied microbiology 5-9 August 2008, Istanbul, Turkey.
Ram's Veterinary Interests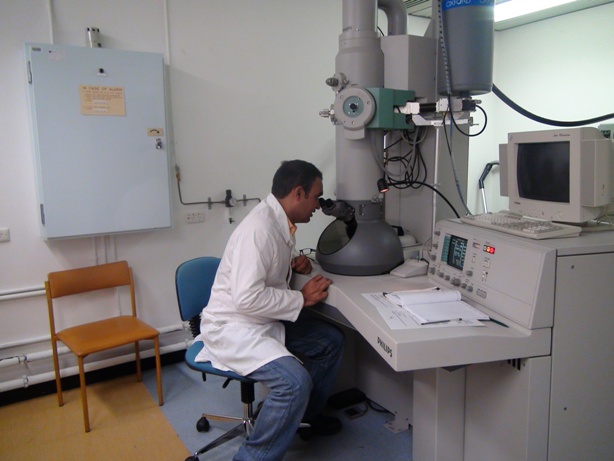 Ram is looking on bacteria under Transmission Electron Microscope at Murdoch University
After spending two decades working within the veterinary profession as a general practitioner, university teacher and researcher in Australia and India, Ram realized that serving sick animals is the ultimate goal of life. Ram believes that educating people about a healthy pet life style is the best way to keep pets healthier. In general Ram has enormous experiences in treating infectious diseases, skin problems, ear problems, osteoarthritis, problems of digestive system (diarrhea, vomiting and constipation), urinary tract infections and respiratory tract diseases, cat fight abscess and wounds. Ram's clients are very happy with management of old age osteoarthritis, diarrhea and vomiting, acute coughing, skin and ear problems in dogs. Ram's other areas of special interests are avian medicine, reptiles and other native wild life.
Research interests
Ram also believes in a better immune response than using antibiotics. Ram has a special interest in infectious diseases and role of stress in infectious diseases of animals. During PhD studies at MurdochUniversity, Ram discovered that the neurostress hormone noradrenaline potentiates the virulent factors of bacteria (Naresh and Hampson, 2011. Microbiology 157: 543-547). Ram also believes that antioxidant therapy reduces the severity and duration of disease in pets which is less recognized in veterinary medicine in comparison to human medicine. Ram is especially interested in developing a better understanding of the relationship between the disease process inside the body and the environment outside the body. Ram has worked for five years on the impact of industrial pollution on animal health as a veterinarian and has published and provided numerous facts about sub-lethal heavy metal toxicities due to the processing of ore mining material. Ram is interested in diseases of the Australian wildlife and their impact on pet health particularly the maintenance and transmission of fatal viral diseases like Canine Parvo virus.
Philosophy of my life – KARMA
 "If you sow goodness, you will reap goodness; if you sow evil, you will reap evil". KARMA means performing your duties in right direction towards the welfare of human beings, animals and nature. Karma teaches us do not be greedy and do not favour anyone for personal reasons even if they are your family members. JUST DO THE RIGHT THINGS.
"You were born with empty fists and you will depart (after death) from this materialistic world with open hands. You cannot carry even a tiny needle or 5 cents with you. You are made up from soil, water and air. After death your body will remix with these components again". You will be only known for your acts (KARMA). Good KARMA means a life free from fear, stress and depression. You will always feel lighter by practicing good acts (KARMA). Ram strongly believes in KARMA more than anything on earth. HELP means HUMANITY to Ram.
Ram is leading a happy, healthy single life (divorcee) from 2009 and shares the custody of 11 years old gorgeous daughter Khushi whom he adores more than anything. Ram arrived to Perth in 2005 to complete a PhD on bacterial pathogenesis with Prof. David Hampson at Murdoch University on Endeavour International Scholarship. Ram fell in love with relaxed and outdoor Aussie lifestyle and decided to call Australia his home for rest of the life. Ram enjoys cooking north Indian spicy curries, walking on beach/Swan River, swimming and mixing with people from different cultural backgrounds. In future, Ram wants to have his own well equipped practice to provide complete package of care to pets and native wildlife. Ram always dreams to be a charity to help many people and animals without having formal applications from them.